This Woman Is Crowdfunding to Send Her Alleged Rapist to Jail
Emily Hunt's rape case was dropped after insufficient evidence. Thanks to a little-known UK law, she's planning to take her alleged attacker to court in a private prosecution—and she wants to do the same for other alleged victims.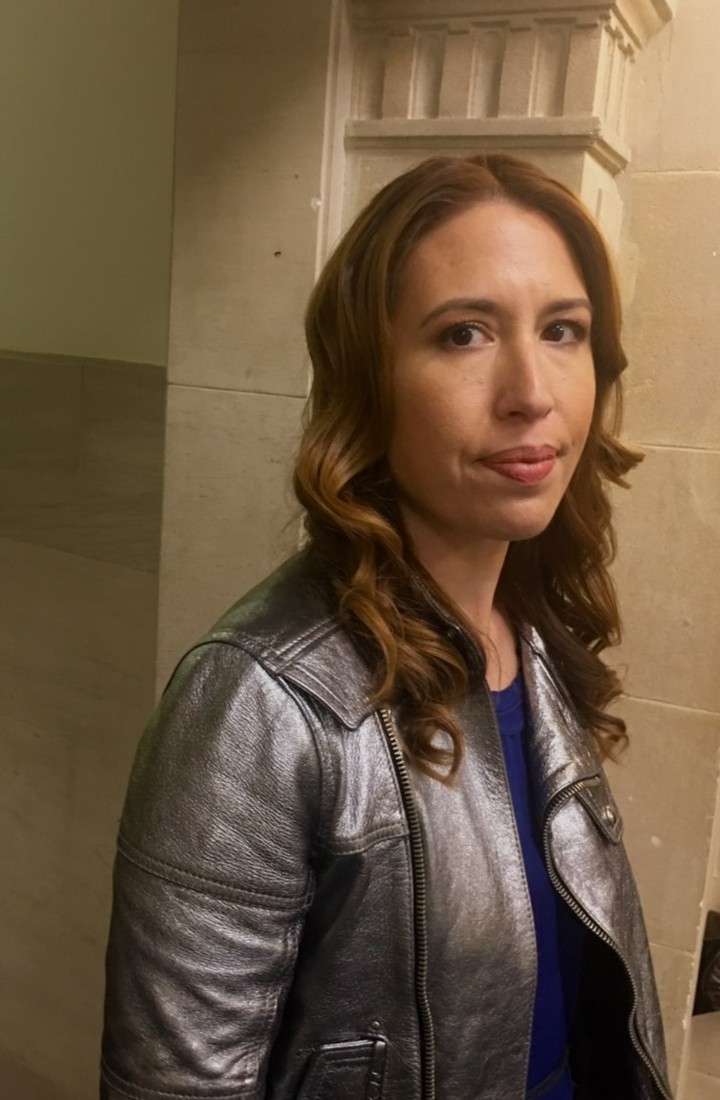 Photo by Chris Fowler
In May 2015, Emily Hunt woke up one evening in an east London hotel room, naked and confused. Her last memory, the 38-year-old strategy consultant says, was of having lunch with her father at a restaurant earlier that day.

"I looked over and saw this guy there, watching TV. It was quite literally the first time I'd ever seen that man in my life," she tells Broadly.
Terrified, Hunt went to the bathroom and called a friend, who notified the police on her behalf. They arrived at the Town Hall Hotel in Bethnal Green and arrested the man. Hunt believes that he spiked her drink and raped her after they met in a bar in the afternoon.
Four months later, the Crown Prosecution Service (CPS)—the public body responsible for prosecuting criminal cases in the UK—declined to take her case to court, citing insufficient evidence for a conviction.
Now Hunt is crowdfunding £100,000 on GoFundMe to bring what is widely believed to be the UK's first-ever private prosecution for rape. If she's successful, Hunt also plans to set up a charity that will help to fund private prosecutions of other rape cases that were dropped by the CPS. So far, the campaign has raised over £13,000 in 17 days.
It is an ambitious task made possible by an unusual quirk of British law. In the UK, individuals have the ability to prosecute a criminal charge on their own behalf if they fund them independently. Such private prosecutions can and do lead to criminal convictions, and Hunt's alleged rapist could face jail if convicted.
Read more:The Complicated Promise Of Anti-Rape Technologies
The private prosecution is necessary, Hunt says, because she believes the official investigation into her assault was characterized by multiple failings. "A lot of things went wrong," she says. "I fell through every crack there was in the system."
Hunt claims that police told her the man could not know she did not consent to sex, as CCTV footage appeared to show her flirting and holding hands with her alleged assailant.
After fighting to get the police to disclose the details of their toxicology report, it also emerged that her alleged attacker was sober when arrested. Under British law, someone who is extremely drunk is unable to consent to sex. When the police were called to the hotel room, they deemed Hunt too intoxicated to even consent to a medical examination and toxicology test.
"He was stone cold sober, and there's CCTV footage of me drunk, falling all over the place," Hunt says.
Though toxicology results did not show the presence of date rape drugs in her system, Hunt says that this could be because the test was done too late.
---
Watch: Amy Ziering On Campus Rape and Why No One Believes Women
---
Disturbingly, Hunt says she only found out a year later that the police had searched her alleged assailant's phone and found a minute-long film of her naked and unconscious. She also claims that he had admitted to police that he had masturbated to the footage.
The Metropolitan Police told Broadly that an independent review into Hunt's case had been conducted by the police regulatory body, and her complaint about police mishandling had not been upheld.
"We will always provide support to anyone who reports a serious sexual offence. We would urge anyone who has been a victim of a sexual offence to report the matter to the police—we are here to fully investigate, listen to and support you," a Metropolitan Police spokesperson said.
Hunt initially set up a GoFundMe page to crowdfund a private prosecution against her alleged attacker a year ago, but she is now relaunching her campaign in earnest. In part, it's because she wants to protect other women.
For More Stories Like This, Sign Up for Our Newsletter
"The average rapist commits 5.8 rapes in their lifetime," she explains. "That gave me strength to do this. Our conviction rates are miniscule. Under 15 percent of victims report their rape, and we're getting conviction rates in the single digits. A lot of cases are not going to trial."
If she hits her crowdfunding target, Hunt will use her private prosecution as a test case and set up a charity to help other women bring similar prosecutions. "I'm done. We need to change this. We are going to keep doing private prosecutions to put pressure on the CPS to make sure they start doing their job [and prosecuting rapists]."
Hunt says she's already had women reach out to her about their own experiences of the CPS dropping their rape cases, and she is determined to help them achieve justice.
"We needs these men to go to jail," she says slowly, drawing out her words. "And I'm going to do that."