Kesha's Biggest Fans Celebrate Her Triumphant New Single
We spoke to leaders of the #FreeKesha movement and longtime Kesha fans—lovingly known as Animals—about the impact of "Praying."
Photo by Becky Sullivan via Flickr
Nearly three years after her sexual assault lawsuit against producer Dr. Luke began (a battle that included a denied request to be released from her contract with him), Kesha has released her first single, "Praying." The song, her first solo endeavor in almost four years, is from her forthcoming album Rainbow and comes with a statement published on Lenny Letter, in which the singer shares her struggles with depression, the solace she's found in her fans (lovingly known as Animals), and vulnerability.
"This song is about coming to feel empathy for someone else even if they hurt you or scare you," Kesha writes. "It's a song about learning to be proud of the person you are even during low moments when you feel alone. It's also about hoping everyone, even someone who hurt you, can heal."
Read more: 'I Will Not Take Back the Truth': Inside Kesha's Tumultuous Lawsuit Appeal
"Praying" is a poignant ballad and declaration of triumph, a pained reminder of her past, marked by lyrics that allude to legal and personal turmoil. It confesses without confrontation, heals without indulging. "When I'm finished they won't even know your name," Kesha bellows.
The song was received with an outpouring of support, especially by Animals who've chronicled their love for the singer throughout her legal battle under the hashtag #FreeKesha. Broadly spoke to fans, leaders of the #FreeKesha movement, and activists in the sexual assault support community about what Kesha's new single means to them, and what comes next.
---
Michael Eisele, 20, of Sandy Hook, Connecticut spearheaded the #FreeKesha movement through online petitions and protests outside the New York Supreme Court and Sony Music. He began tweeting under @KeshaTODAY in 2014 to bring awareness to the cause and "maintain public consciousness." Eisele, a fan of Kesha's for eight years, was recently subpoenaed by Dr. Luke's lawyers for his involvement with the protests. He's set to appear in court later this month.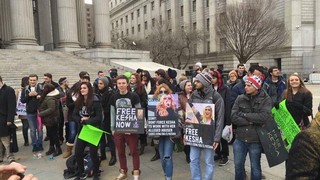 What is your involvement with the #FreeKesha campaign?
I've been using the @KeshaTODAY Twitter handle since 2014 when I launched the first petition to release Kesha from Dr. Luke's contract—strictly regarding her creative freedom. This was before any sexual assault lawsuit. Since then, it's been a great platform to maintain public consciousness of Kesha's case, and before today, to keep her alive in the Twittersphere with no music!
What does "Praying" mean for you?
The release of "Praying" means that Kesha can finally continue to share her message and connect with people like she did with me as as a young kid—people who are confused and afraid. I believe Kesha was put on this earth with this gift to inspire and change lives. Not only that, but it's an empowering message to all survivors of assault that you should never give up. It's been a long road for Kesha, and the monologue in the beginning of her video was brutally honest and chilling. This is a chance for her to use her music to speak to a new branch of people.
What does this mean for the #FreeKesha movement?
She's still under Dr. Luke's contract. I partnered with one of my friends to create this video to keep fans aware of her situation and to never forget what they were a part of.
---
Penn Shelly, 21, from Lancaster, Pennsylvania, has been behind the handle @crazykeshafans since its beginnings in 2011, amassing over 44,000 followers. Shelly was also at the front lines of the #FreeKesha campaign, protesting outside the New York Supreme Court.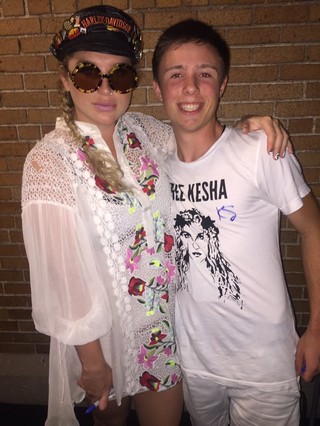 What does "Praying" mean for you?
I'm super happy for her since it's been five years since Warrior has come out. Within those five years she battled an eating disorder and the lawsuit from hell. During the whole #FreeKesha campaign, we protested outside the New York Courthouse. It was probably about 40 to 50 Animals. We lined the stairs to the courthouse with glitter as she walked in. We protested Sony. This was huge for us seeing her get a little bit of freedom back.
What message does she send to other survivors of sexual assault?
She is sending a positive one. Most of the song is written toward Dr. Luke. He was the one who abused her. The one thing I'm really proud of her for is it's not negative towards him. She's praying for him before going to bed at night. It's going to be a whole new era for her.
What does this mean for the #FreeKesha movement?
That's still unsure because we're not sure with her contract what legal stuff still exists. It's kind of uplifting for her to get some recognition for it even though it didn't go as good at first. It's nice because people like Adele backed her and Iggy Azelea backed her, Halsey backed her, Ariana Grande.
---
Fellow #FreeKesha activist Mikaela Happas, 21, of Boston, Massachusetts, remembers watching Kesha leave the courthouse in tears in February 2016 after a judge denied an injunction that would have released the musician from her contract with Sony. Since then, Happas has shown her support by attending live concerts, where she's met the singer twice, and gotten a tattoo of the word "warrior" in Kesha's handwriting.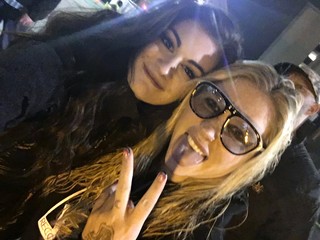 What is your experience with the #FreeKesha movement?
The first protest I was at for her trial was February of 2016. We saw her get out of the car and go up in the courthouse and she waved at all of us. We saw her come out of the courthouse and she was bawling her eyes out and sobbing. We saw her get into the car and drive away. The difference of going in hopeful and coming out sad was so devastating for all of us. It felt like the end, but we knew we weren't going to stop fighting for her. A lot of people have given up on her but her true fans knew she would get through it. Since then I've gone to almost every one of her shows. We always get the front row, my group. We hold up #FreeKesha signs. We start the chants for #FreeKesha. We wanted her to know we were still here fighting for her.
What does "Praying" mean for you?
I knew it was the beginning of a new era for her. Waking up today, not only having a song but having a song, a video and hearing about her new album that's coming out is like, oh my god. I truly think it's her best song ever. The Kesha we know, her fans, we know her like that. A lot of people don't know her like that—the pop, glitter, fun Kesha. We know her raw sides and we see that. It's really, really exciting that people get to see who she really is. The video, it's so powerful and I really feel like it's all her. There's no influence in it.
What message does she send to other survivors of sexual assault?
I think that she's showing how messed up the court system is. It's hard to prove [sexual assault] and even though she's been through that she's shown everyone how strong she is. She's been through hell and back and she's still here fighting. I don't know if she's free-free but she's able to release music and when she wants to. I think that a lot of people are going to see what she's been through and speak out about how they've been sexually abused and maybe they'll come out and see how brave she was. She's been through a lot. It makes me really happy to see that she's still fighting and she's winning.
What does this mean for the #FreeKesha movement?
At this point, none of us really know it really means, if she's still tied to Dr. Luke at all. But I think that since Sony dropped Luke that it means that she's under just Sony now and that's why she's able to do all this. I think she's free in a way. For the #FreeKesha movement, I think we won.
---
Xenia Claus, 26, and Kesha have matching tattoos. After befriending the singer during a European tour, Claus, who currently lives in Toronto, and Kesha decided to get "Animal" inked onto their skin.

What does "Praying" mean for you?
I think it's such a powerful song with such a great message to the people that wronged her. I'm overjoyed that she is able to put this music out there after so much struggle. And it's such a beautiful song it really shows what she's capable of, vocally.

What does this mean for the #FreeKesha movement?
I love saying "don't ever stop being loud for who and what you love." I think when the #FreeKesha movement started it became known because fans were and are supporting her. And it's kind of magical having all those people showing support.
---
Jake Thrasher, 21, is the president of an on-campus organization that supports and shares resources with survivors of sexual assault at the University of Mississippi. He aims to raise awareness to intersectionality in sexual assault.
What does "Praying" mean for you?
Watching the music video and listening to the lyrics, it's pretty obvious that this is Kesha's response to being a survivor of sexual assault and the reporting process and how it's stifled her art. It's powerful because I am also a survivor of sexual assault. The song is really powerful because it's Kesha coming out and saying how it was really hard for her and how sexual assault can cause depression and suicidal thoughts and you feel like you've been robbed of yourself when you've been sexually assaulted or raped. She's regaining power over herself. Not only has she regained her sense of self worth, she's become stronger on the other side. I thought what was powerful overall in the song was that she's reached a point where, I interpreted, she's praying for Dr. Luke because she thinks that he's done some really shitty things and she's praying that he changes not only so he can be a better person, but so he won't hurt others. It shows a big resilience and strength and maturity in Kesha.
What message does she send to other survivors of sexual assault?
It's really relatable, especially in the beginning in the spoken word part. The things that she said in that section are pretty common reactions to being sexually assaulted. I feel like the message that when you overcome being assaulted, which will happen eventually, you're going to come out stronger on the other side. You're going to be way better off than the person who assaulted you.
What does this mean for the #FreeKesha movement?
What I like about it is she doesn't mention the court case. The judicial system in America the way it is now, it's not here to protect survivors. Releasing this album is a way to be like, "Fuck the judicial system. It's not here for survivors." It's really helpful and a freeing message.
For More Stories Like This, Sign Up for Our Newsletter
---
As a longtime Kesha fan, Boston-based Brianna Zani, 28, has personal emotional connections to "Praying." Zani is a survivor of sexual abuse and found hope in the song's message of forgiveness.
What does "Praying" mean for you? What are your reactions?
I felt like it was really clear to me that this is someone who has been in a lot of pain. It sounded like she was healing with this hopelessness and loss of meaning. When I watched the video, I felt like that, too. There was a moment when everything goes from black-and-white to color. There was a sense of hope that I felt. The spoken word at the beginning where she's like, "Let me die, it's too painful to live" and then you see these colorful images that life is worth living.
I myself am a survivor. I do deal with a lot of trauma and I feel like I've been in that place and you want to say, "Fuck that person," and you're so consumed with that anger. Your anger is totally justified. I had every right to want revenge. That was holding me back. The ability to not let go, but heal [and] when I eventually got there, it allowed to be the person that I am now. For me, this single and the video touched on something. I don't think a lot of people in general talk about sexual assault or abuse. When you do have narratives of sexual assault and abuse you have that either shrinking victim or you have the portrayal of the person who is really angry and does want revenge. When I first heard it I was like, it's been awhile since I heard a song like this. Since Tori Amos, since Fiona Apple. For women like me it's important to have that.
What message does she send to other survivors of sexual assault?
It's hard because not everybody's experience is the same and I don't think she's trying to put out a prescriptive message, but she's saying that this is possible. If you want to get to a place where you want the best for them and peace and happiness you can get to that place.
What does this mean for the #FreeKesha movement?
The thing about the legal system is that it's so fucked up. She addressed that a little in the video that it's about money and it's about power. I think it's amazing we're getting new music from her. I'm glad it's happening. I don't know if this is the moment that now she's free. I'm glad that on an emotional level that she's reached healing.