Trump Is Nominating Anti-LGBT Judges at a Terrifying Rate
According to a new report, nearly one-third of Trump's judicial nominees openly oppose LGBT rights—and his administration has already confirmed more judges than the past three presidents combined.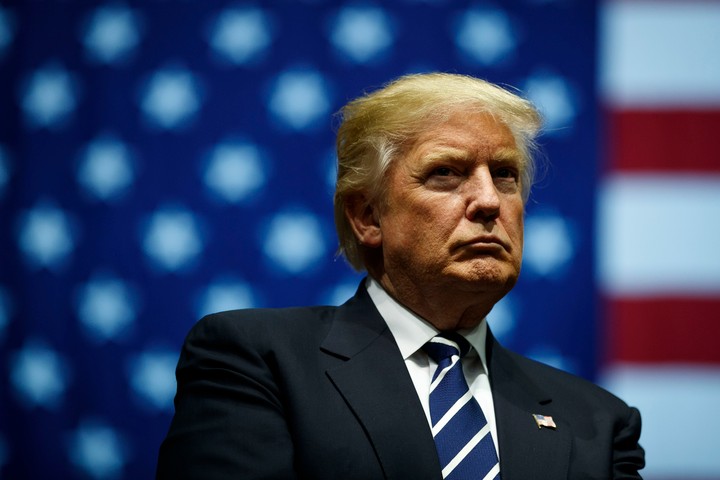 Photo by Drew Angerer via Getty Images
This past summer, John K. Bush was confirmed as a federal judge on the Court of the Appeals for the Sixth Circuit, over cries of protest from progressive groups. Bush, who was nominated to the position by President Trump, once spoke publicly in front of a crowd and used the word "faggot," quoting Hunter S. Thompson, without appearing to be uncomfortable with the slur. He also argued in a paper that the Kentucky Supreme Court had become "overly aggressive," citing as evidence the fact that the Court had "immunized consensual sodomy from criminal prosecution."
Serving alongside Bush is Joan Larsen, another newly installed circuit judge. In 2016, when she held a seat on the Michigan Supreme Court, she, too, expressed hostility toward LGBT people when she refused to hear a case on same-sex parental rights, and suggested gay families were "lesser" than heterosexual ones.
Bush and Larsen are just two of the 16 Trump judicial nominees that have been fiercely opposed by Lambda Legal, an organization advocating for the legal rights of LGBTQ people. According to new analysis the group released this week, nearly one-third of the president's nominees so far have records that suggest they would not uphold the rights of LGBT people. They range from those who "have openly denigrated LGBT people and families" to others who "have more quietly undermined LGBT rights and protections," the report's authors write.
To date, Trump has nominated 59 judicial nominees, including Neil Gorsuch (who's now on the US Supreme Court), Gregory Katsas (who's now serving on the US Court of Appeals for the DC Circuit), and Amy Coney Barrett (who took the bench on the US Court of Appeals for the Seventh Circuit). All three were opposed by Lambda Legal for their anti-LGBT records.
"We are in the midst of a judicial crisis for LGBT Americans, spurred by Donald Trump's full-on assault on our rights, our families, and our children," said Sharon McGowan, the director of strategy at Lambda Legal, in a statement. "Over the last year, we've seen Trump nominate judges who are unqualified and hostile to our community—they have used slurs like 'faggot' in public addresses, have called our children a part of 'Satan's plan,' and have even targeted a transgender teenager on Twitter for public ridicule and mockery."
"We are in the midst of a judicial crisis for LGBT Americans, spurred by Donald Trump's full-on assault on our rights, our families, and our children."
Because of the influence the federal courts have in interpreting the country's laws, the people filling these positions will directly impact the lives of all Americans. It's because of litigation fought on the federal level—such as the groundbreaking civil rights case of Obergefell v. Hodges, which gave same-sex couples the right to marry—that the LGBTQ community is able to access many of the same rights straight people have.
This week's report also highlights the sheer speed in which the administration has moved to fill the more than 120 federal judicial vacancies. So far, 18 judges have been confirmed, 12 at the circuit court level and six in US District Court. "By comparison," the authors point out, "at this time in their administrations, President Barack Obama had confirmed three circuit court judges, President George W. Bush had confirmed five circuit court judges, and President Bill Clinton had confirmed three circuit court judges. In other words, Trump has confirmed more circuit court judges than all three prior presidents combined, at the same time of their presidency."
In fact, three of the most recent judicial nominees were confirmed just last week: Leonard Steven Grasz to the US Court of Appeals for the Eighth Circuit, and Don Willett and James Ho to the Fifth Circuit. All were opposed by Lambda Legal. Lambda Legal argued that Justice Willett, for example, would not offer a fair hearing to LGBT people because he trivialized the importance of marriage equality. (In 2015, the day after same-sex marriage was legalized, he tweeted: "I could support recognizing a constitutional right to marry bacon." The tweet has since been deleted; he told the Senate Judiciary Committee that he meant it as a joke.)
What's perhaps most frightening about the impact of these judgeships is that many of them are lifetime appointments. As McGowan pointed out in her statement, "each of these confirmed judges will outlast this administration and have the potential to decimate civil rights in the Trump's vision for generations to come."