Two Models Banded Together Against a Sexist Troll Who Tried to Compare Them
Broadly spoke with both models about their decision to shut down the misogynistic tweet in a "proper ass move."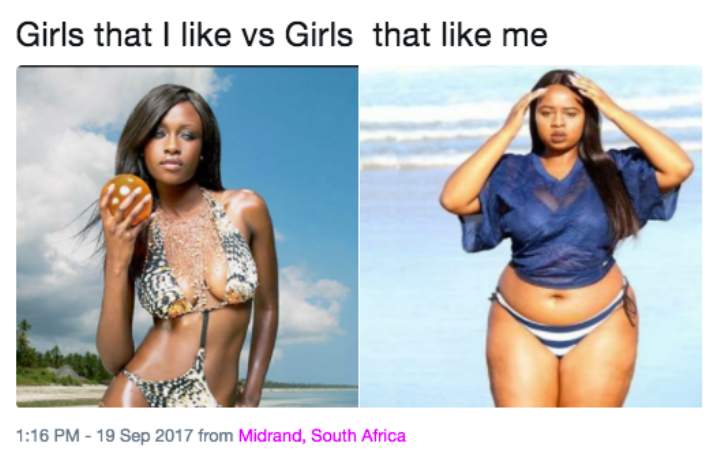 Photo courtesy of Lesego Legobane
On Tuesday, Twitter user @imleyton posted two photos of models with the caption: "Girls that I like vs Girls that like me." The body-shaming tweet was quickly met with outrage, but one response trumped them all. Lesego Legobane, the plus-size model the meme tried to demean, tweeted back, simply stating: "I don't like you." Her viral response is now said to be the most liked and retweeted across Africa, with nearly 300,000 retweets and one million likes including Ariana Grande and Nicki Minaj.
Joëlle Kayembe—the other model shown in the original tweet—also spoke out against the attempt to pit women against each other. On Tuesday, she replied on Twitter, "As if the world needed another example of an obnoxious ass." Broadly spoke to both Legobane and Kayembe about becoming overnight sensations for shutting down a misogynist troll.
For Legobane, a plus-size model, blogger, and body-positive activist, the tweet wasn't much of a surprise. "I get so much backlash on social media for being fat," she explained. "So I just thought to myself, Here we go again, another rude prick." Even though she's used to online haters, Legobane wanted to put the Twitter user in his place and let him know—in no uncertain terms—that she would never be into him. "I didn't care to fight him," she said. "I just needed him to know that just because I'm fat, it doesn't mean I will drop for any random man that breathes." Plus, she added, "He was being rude."
Kayembe agreed with Legobane's sentiments, telling Broadly, "It was just plain rude to use one woman's picture to body-shame another." When asked why she decided to respond to his tweet, she said she felt it was a "proper ass move." Kayembe wanted to make it clear that even though the troll tried to compliment her in the tweet, body-shaming is an "unnecessary" practice that doesn't inspire any kind of flattery.
"It was not a very well thought of compliment, if that is what he was trying to achieve," she added. When asked if she would ever like a man who'd tweeted that, she replied: "No, I wouldn't."
For More Stories Like This, Sign Up for Our Newsletter
But it's safe to say that Kayembe is a big fan of fellow model Legobane. "I think she handled it with such class," Kayembe said. "I mentally high-fived her and I hope women take her lead on how to handle [asses] like him."
"I celebrate myself and how I look. I believe in self-love and if women can draw inspiration from that, then I'm happy," Legobane said. "Women are constantly accused of being hateful towards each other. Today, women broke that theory by showing me love! It's surreal, I'm overwhelmed and truly grateful."