Man with 19 Accusers Declares April Sexual Assault Awareness Month
Here are a few of the ways the Trump administration has rolled back protections for sexual assault survivors and worked to silence the voices of women who have come forward to report abuse.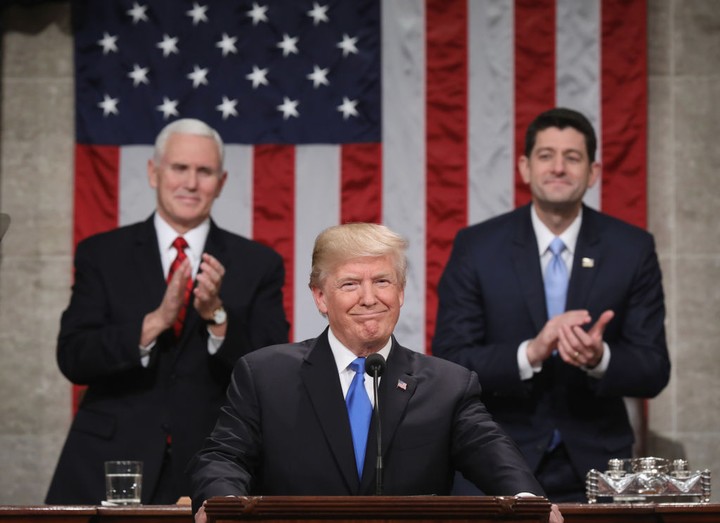 Photo of President Trump delivering his first state of the union address by Win McNamee/Pool via Bloomberg.
As America watched the final votes come in on Election Night 2016, one woman took to Twitter to express her dismay that a man who openly bragged about groping women could be elected president. "If you want to understand why rape culture is alive in the USA," Dana Finley tweeted, "it's because Trump can admit to sexual assault & still get millions of votes."

The next day, when it was certain that Donald Trump would indeed be the country's next president, another woman wrote, "I hope every Trump supporter realizes that every sexual assault survivor just watched their worst nightmare come true."
It's a nightmare that many survivors continue to grapple with more than a year later, and amidst a nationwide reckoning around sexual assault and harassment. On Friday, the president, who's been accused by at least 19 women of sexual assault and harassment, issued a typo-filled proclamation designating April as National Sexual Assault Awareness Month. In it, he called for Americans to "recommit ourselves to doing our part to help stop sexual violence," which includes holding perpetrators accountable and supporting victims and survivors "unremmittingly." (The White House also misspelled "assault" twice.)
This is the second year that the Trump administration has released a presidential proclamation for Sexual Assault Awareness Month, continuing a tradition that former President Obama started in 2010. (The National Sexual Violence Resource Center launched the campaign in 2001.) What's particularly ironic, some advocates say, is that the Trump administration has appeared to actually work against survivors of sexual assault.
Shortly after winning the election, for example, Trump announced plans to nominate then Senator Jeff Sessions for the role of US Attorney General. Just a month earlier, however, Sessions told a reporter he wasn't sure if grabbing a woman by the genitals—an action Trump has joyfully boasted about—was considered sexual assault. Today, Sessions is tasked with leading the government agency responsible for seeking justice and enforcing the country's laws.
Trump continued to disappoint women in March 2017 by signing an executive order that revoked the 2014 Fair Pay and Safe Workplaces order, which, in part, banned companies working with the federal government from forcing arbitration clauses for claims of sexual harassment, sexual assault, or discrimination. Advocates say the 2014 order was an important step forward for women workers because such secret contracts keep victims from sharing their stories of workplace harassment and assault. Now, thanks to Trump's actions, these workers are once again vulnerable to abuse.
Beyond removing important protections for women, the president has also repeatedly stood up for men who've been accused of sexual misconduct or other abusive behavior. In April 2017, he called Bill O'Reilly a "good person" after the New York Times published a report that the then-Fox News host and his employer had paid millions of dollars to silence a number of women who raised sexual harassment claims. In December, Trump backed Roy Moore for Senate, even though a woman alleged Moore tried to initiate sex with her when she was 14 years old. Trump told reporters: "He totally denies it. He says it didn't happen. And you know, you have to listen to him also."
Most recently in February, Trump also defended former staff secretary Rob Porter on allegations of domestic violence; a day later, the president appeared to go after the #metoo movement in general. "Peoples lives are being shattered and destroyed by a mere allegation," he tweeted. "Some are true and some are false. Some are old and some are new. There is no recovery for someone falsely accused - life and career are gone. Is there no such thing any longer as Due Process?"
Since Trump took office, his administration has also taken down important research on the impact of sexual violence from the White House website, neglected to nominate a new director for the Violence Against Women office in the Department of Justice—a person many argue is supposed to be the administration's most vocal on sexual assault—and, perhaps most alarmingly, rolled back the Obama-era guidelines regarding how schools should address sexual violence on campus.
"Their harmful actions and flippant comments about sexual violence convey a lack of awareness and lack of support for survivors."
In January, Equal Rights Advocates, SurvJustice, and Victim Rights Law Center filed a lawsuit against the Trump administration to vacate the Department of Education's decision last September to rescind the 2011 Dear Colleague Letter and its accompanying directives in connection with the federal Title IX law. Carly Mee, interim executive director at SurvJustice, tells Broadly the interim guidance put in place by Secretary Betsy DeVos "only serves to favor accused students, flipping Title IX on its head."
"For example, the administration has made it harder for survivors to obtain accommodations to ensure their ongoing access to education while reporting a sexual assault, and has allowed schools to provide an inequitable right to appeal by granting it only to accused students," Mee explains. "Any acknowledgment of Sexual Assault Awareness Month rings hollow because of Trump's own actions and those of individuals within his administration like Secretary DeVos. Their harmful actions and flippant comments about sexual violence convey a lack of awareness and lack of support for survivors."
For More Stories Like This, Sign Up for Our Newsletter
Delia Coleman, the director of strategic communications at Equal Rights Advocates, agrees. "We think their rollback of these policies is problematic and is based in discriminatory ideas about gender," she says, adding that "the voices and experiences" of sexual assault survivors aren't being taken into consideration as they should be.
"We think that actions speak louder than words," Coleman says, "and right now what we're seeing is an administration that is not acting in the best interests of survivors of sexual assault."