Student Charged with Hate Crime for Rubbing Used Tampons on Roommate's Things
In a Facebook video, University of Hartford freshman Chennel Rowe, who is black, details the abuse she faced from her former roommate Brianna Brochu, who is white. Brochu allegedly also put moldy clam dip in Rowe's lotion and spit in her coconut oil.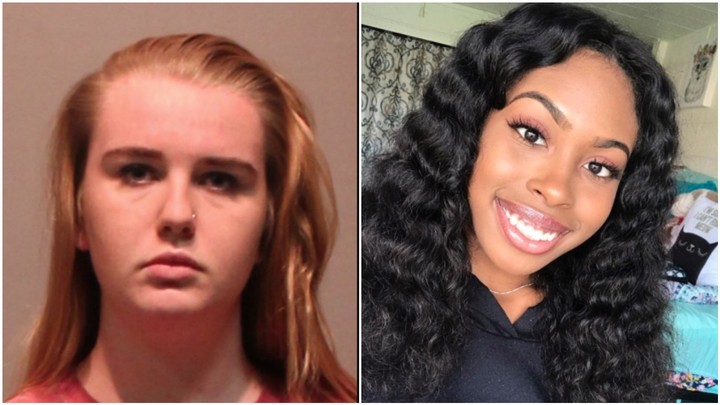 Brianna Brochu mugshot courtesy of Hartford Police, Chennel Rowe photo via Facebook
On Saturday, University of Hartford freshman Brianna Brochu was arrested on charges of third-degree criminal mischief and second-degree breach of peace for harassing and intimidating her ex-roommate, Chennel Rowe. Now, Brochu, who is white, faces a hate crime charge for the acts she committed against Rowe, who is black, the Hartford Courant reports.
On Monday, October 30, Rowe posted a Facebook video that runs more than an hour and a half, detailing the abuse she allegedly experienced at the hands of Brochu. Rowe says in the video that on October 17, when she moved out of their shared room, she was alerted by two RAs and one neighbor that Brochu posted a detailed account of her harassment of Rowe, including tampering with her things.
One of Brochu's Instagram posts was captioned: "Finally did it yo girl got rid of her roommate!! After 1 ½ month of spitting in her coconut oil, putting moldy clam dip in her lotions, rubbing used tampons on her backpack, putting her toothbrush places where the sun doesn't shine and so much more I can finally say goodbye Jamaican Barbie."
Brochu appeared in Hartford Community Court today for third-degree criminal mischief and second-degree breach of peace, both misdemeanor charges. In newly released court documents, Brochu admits to licking the "plate, fork, and spoon" belonging to Rowe. She also admits to "[putting] tampon blood on [Rowe's] backpack, and [mixing] Rowe's lotions with other lotions also on Rowe's desk."
Rowe states in court documents that since the two became randomly assigned roommates, Rowe was "ostracized" by Brochu, who "generally ignored her and treated her as a 'ghost.'"
Brochu was ordered to stay off the University of Hartford campus and not contact Rowe, according to the Courant. The publication also reported that the West Hartford police seek to add another charge against Brochu: second degree intimidation based on bigotry or bias, a class D felony in Connecticut.
In a statement on Wednesday, University of Hartford president Gregory Woodward wrote, "As of this morning, Brianna Brochu is no longer a student at the University of Hartford. She will not be returning to this institution." It is unclear whether Brochu was asked to leave or did so voluntarily. Woodward also said that "the University took action immediately once these allegations were brought to our attention."
But in her Facebook post, Rowe wrote that "colleges are known to just sweep issues that happen within the campus under the rug, making the issue disappear and not doing anything about it" and "I'm not holding my tongue any longer about my situation because this is just so ridiculous to hear nothing back from my school about this situation."
For More Stories Like This, Sign Up for Our Newsletter
David McGuire, executive director of ACLU of Connecticut, told Broadly, "For us this highlights something that we already knew all too well: racism and white supremacy and the problems associated are definitely Connecticut problems as well as national problems."
"There are many things that have been reported that are troubling. One is that [Rowe] felt silenced by the university. Clearly someone who experiences racist abuse should not be silenced by their university," said McGuire. "Another is that people have been characterizing this as bullying, that is really an understatement. What [Rowe] alleges happened to her is more than bullying, it's racism and physical harm."