Illustration by Lia Kantrowitz
My First Job Was Behind the Camera on a Phone-Sex TV Channel
Manning the cameras at a 24-hour softcore porn channel, I got a firsthand look at the company's battle against arbitrary censorship laws, and the performers' struggle to express themselves in a job with a strict, sex-robot procedure.
Illustration by Lia Kantrowitz
Amy* screamed and jumped off the silk sheets. "There's a fucking spider on the bed!" Gemma shouted, dropping her phone headset and clambering off the bed after Amy, covering her naked body with her hands.
"You're filming an empty set!" our lead producer shrieked at one of the camera operators, as the girls ran around the studio squealing. Producers clambered over the bed with cups, attempting to rid the set of the unwanted guest.
Naturally, this all ended up on the internet.
These were the perils of working with glamour models in a spider-infested studio on live television. Trying to make naked women fleeing insects look sexy, however, wasn't even among the strangest experiences I had working as a camera operator for a phone sex TV channel.
I was 22, I'd just graduated film school, and I was keen to see how the sex industry worked—I wanted to form my own opinions on the infamous business. As a feminist approaching adulthood just as more women in the industry were pushing to reclaim porn and reprioritize female desire, I'd already consumed everything I could find on this topic, including articles, films, and books by feminist porn directors, columnists, and sex workers.
---
Watch: Meet the Real People Behind Your Virtual Boyfriend

---
Of course, reading about the sex industry is very different to actually experiencing it. And mainstream run-of-the-mill phone sex TV is pretty different in ethos to the edgy, on-trend, and body-positive porn I came across: Think old man dick, seediness, and giant breast implants. The main difference, however, is that the mainstream sex industry is aimed at an audience who doesn't give a fuck about new ideas around sex—they just want to have a wank.
Unless you're awake flicking through British television channels after midnight, you may not know what guilty pleasures are available to you if you don't mind racking up a hefty phone bill. If you've never scanned through television channels until they're starting to get a bit weird-sounding, you might never even have heard of phone sex TV.
To sum them up: They're essentially 24-hour channels which feature glamour models posing seductively in underwear on a bed in an entirely unconvincing set. Other than a soundtrack of tinny techno beats crossed with elevator music, there's no sound. But if you decide to call the designated phone line on the screen, you can talk to the girls one on one to have phone sex with them for less than £2 a minute.
Filming softcore porn in the small hours wasn't exactly my long-term dream job, but I rarely found myself bored—not least because camera crew could often listen in on these phone calls. When I first started working there, people would often jokingly warn me not to get roped into working in front of the camera instead of behind it. That was never an option! Even if I wanted to, the producers would never put someone on set who wasn't already a pro at improvised dirty talk and striptease. It's not an easy job, and it required around the same physical demands as a college gymnast—the models jumped around, dry-humped, and danced for ten hours a night.
Read more: 'Anything Goes': When Your Dad Works in Porn
Inhuman amounts of caffeine, among other stimulants, were often consumed in order to stay awake. The girls I worked with could improvise quicker than a Hollywood actor and play any character that the mood demanded. Years of hearing every fetish under the sun taught them how to push anybody's buttons.
My favorite model and coworker was Candy, a six-foot-tall Jessica Rabbit lookalike who liked to play the character of the devoted girlfriend. Candy's style required one-on-one intimacy; she didn't play well with the other models. She liked to stretch out across the silk sheets and whisper sweet nothings down the phone line, looking straight down the camera with a sultry gaze. This didn't work so well when she was crammed onto a bed next to a model with a raunchier style. (Think lots of dry humping of pillows and cries of "Yes! Fuck my pussy with your big... fat.... cock!")
Candy's callers were mostly regulars. Sometimes they didn't even want phone sex; instead she'd have deep personal conversations with them. Given the level of emotional care she doled out, I'd always assumed she'd formed genuine connections with these men. I was even pretty touched by it—until I asked her about them one evening. She rolled her eyes and groaned, "They're all weirdos, Aoife. They're very emotionally demanding! They expect me to remember their birthdays... Phone sex is so much easier!"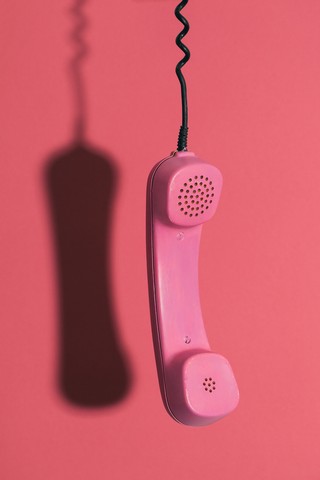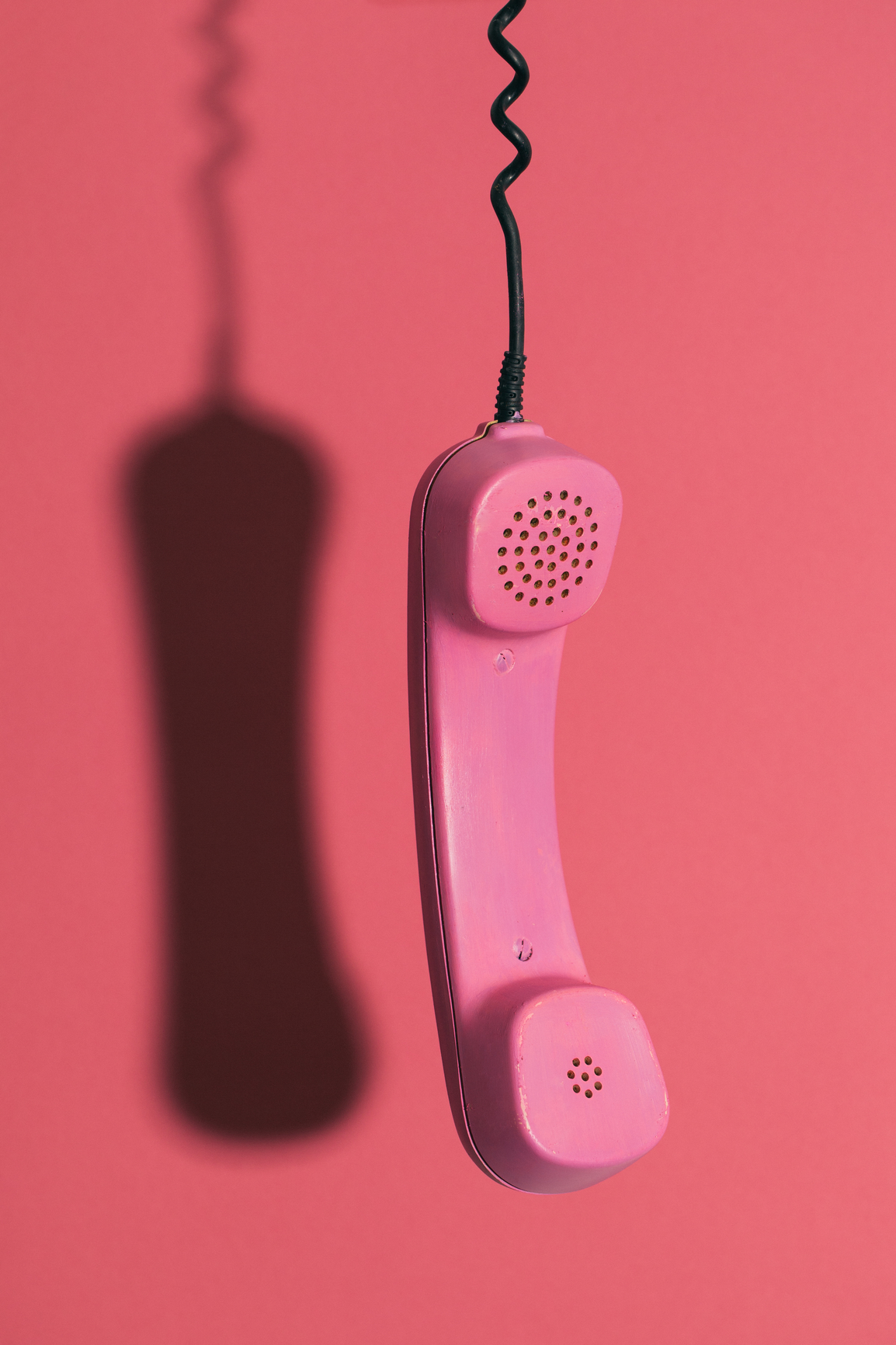 The men who called were usually looking for intimacy that they were missing in other parts of their lives. Many seemed to be in marriages with partners who had different sexual needs, or where communication around sex had simply broken down. Some, of course, were just plain mean—they'd ask the models to insult their wives and got off on them being disrespected.
Still, our models wanted their callers to form an attachment in some way—that way they kept calling and making them money. It was left to the callers to stay realistic about the fantasy they were buying.

Like Candy, Megan was a pretty famous porn star and model who often dealt with callers getting confused about their relationship. Callers used to argue that what she did was immoral; tempting men all day purely for monetary gain. Megan never claimed to be selling commitment, but they still didn't seem to be able to get their head around the fact they couldn't own her.
One of her clients woke up at 5 AM every morning to call her in the last hour before she went off air. He did this so there wouldn't be anyone else waiting on the line, and he'd have her undivided attention. I remember him once telling her that he had "pressed his dick up to the [TV] screen, and it felt warm." It struck me as quite the poetic example of the limits of intimacy in these relationships. That thick pane of glass would always stay firmly between them, even if Megan knew more about his inner life than his own family.
Before I was allowed into the studio, however, I had to sit through a two-day phone sex training. "Treat the girls like toddlers," instructed Dan, our tyrannical showrunner. I was told to never take my eyes off the models. This was, obviously, incredibly disrespectful language to use about his employees, but a lot of my job did involve watching the girls like a hawk.
"We constantly debated what constituted a visible asshole on camera when the girls wore G-string underwear."
Ofcom—which regulates TV standards in the UK—would throw immense fines at sex channels if there was even the littlest glimpse of vagina or a cheeky nipple before 10 PM. My job was mostly to ensure this didn't happen—and it could get difficult when I was dealing with people whose attitude to sex is about as liberal as you can get.
The majority of the models took what they could get from the channel. They had signed an exclusivity deal and were contractually obliged to only use company-owned platforms (like its webcam service). On those channels, they could fully express themselves—there were no boundaries around full nudity, sex toys, or masturbation.
There were some models, however, who would constantly try to push the Ofcom boundaries while live on air. This put me in a pretty tough position, as I could have lost my job if I didn't enforce the rules.It didn't help that they were pretty ridiculous: No licking the phone, no touching each other (not even a pat on the back or a high five), blowjobs could be mimed only with flat hands. The girls could go nude after midnight, but if any labia was ever seen we'd face a fine into the thousands, and jobs would be lost. We also constantly debated what constituted a visible asshole on camera when the girls wore G-string underwear.
For More Stories Like This, Sign Up for Our Newsletter
One evening, I was working with Amy, a fiery dominatrix whose stage persona was that she was far too good for anyone's pathetic penis. (The callers absolutely loved her.)
"Amy, can you please take your hand out of your pants? I can see it on camera," I asked her. She was blatantly touching herself. This was the third time in an hour.
"I'm not even fingering myself!" she shouted, snatching her headset off and storming off set. We quickly panned across and zoomed in on Gemma, who looked distracted at the raised voices and the sudden close-up. "Ooh baby," she moaned down the line.
"Can't we have any personality?" Amy screamed. "Do we have to just sit there and moan?" There was a slam of the studio door and then: Thud. Thud. Thud. Thud. With a shout of "fuck this!", Amy threw her suitcase down the stairs and stormed out of the building.
The producers looked at each other nervously in the silence that followed. Dan would not be happy at his star performer's departure, but with Ofcom—and Dan himself—breathing down our necks, what were we supposed to do?
Still, Amy had a point. Censorship was tough on the models. They had to bring someone on the end of the line to orgasm without being able to do much other than mime a blowjob. They wanted to use their personality, rather than following strict sex-robot procedure. Plus, they had to engage in all these sex acts without experiencing any pleasure themselves. The models would talk to their callers about what they themselves liked in bed, but the point was kind of lost if they then pretended to orgasm at the drop of a hat.
A TV sex channel like the one I worked on could have been extremely progressive and powerful. We already had a huge male following, and if we used more diverse representations of beauty—like hiring women of different body shapes and ethnicities—we could have the potential to gradually change what the general population found sexy.
In the end, I left the company after four months—I wasn't happy with its management. But this didn't mean that I didn't take anything away from my phone sex TV experience. My attitude to sex opened up hugely. Foot fetishes became as routine as the missionary position, and small penis humiliation got to be pretty vanilla. And the greatest lesson I took away was that the taboo around the sex industry has to end if we want to push it towards a healthier, better place.
My attitude to sex opened up hugely. Foot fetishes became as routine as the missionary position, and small penis humiliation got to be pretty vanilla. And the greatest lesson I took away was that the taboo around the sex industry has to end if we want to push it towards a healthier, better place.
So, the next time you're flicking through the sex channels post-midnight, give the half-naked woman you see on TV a little respect. Take note of her knowledge of sex, her insane physical fitness, and her kindness and lack of judgment when talking to extremely lonely people. Who knows? Maybe you might learn something. You just need to pick up the phone and call.
* All names in this piece, including mine, have been changed to protect the privacy of the people working at the company.