'I Was Begging Him to Stop': Another Woman Accuses Roy Moore of Sexual Assault
Beverly Young Nelson says she was 16 when the Alabama GOP Senate candidate locked her in his car and proceeded to grope her and forcefully pull her neck into his crotch.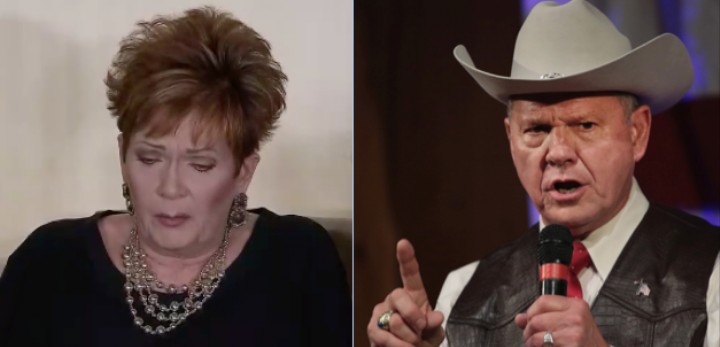 Another woman has accused Roy Moore, the suspended former Alabama Supreme Court Judge now running for US Senate, of sexually assaulting her as a minor. In a press conference this afternoon, 55-year-old Beverly Young Nelson said that Moore assaulted her when she was just 16 years old. According to Nelson's account, Moore locked her in his car, forcefully groped her, and grabbed her neck, attempting to bring it to his crotch as she fought back, crying and begging him to stop.
At the time, Nelson said, she was working as a waitress at a local Hickory House where Moore was a regular customer. According to Nelson, Moore would sit at the same counter seat nearly every night, and would frequently attempt to flirt with her, including by pulling the ends of her long hair as she walked by.
"I did not respond to his behavior," she said.
On December 22, 1977, Nelson brought her yearbook to work after school and left it on the counter. She recalled that Moore asked if he could sign it; she was happy to have the DA of Etowah County sign her yearbook, she said. "To a sweeter more beautiful girl," he wrote. "I could not say 'Merry Christmas,' Christmas, 1977, Love, Roy Moore, Old Hickory House. Roy Moore, DA.'"
Read More: GOP Lawmaker Says Someone Should 'Go After' Roy Moore's Accusers
Later that night, Nelson was waiting outside in the cold for her boyfriend—who was running late—to pick her up and drive her home, she said, when Moore offered her a ride. "I trusted Mr. Moore because he was the DA," she said. According to Nelson, after she got in the car, Moore began driving to the back of the restaurant. She thought this was odd, she recalled, but it wasn't quite alarming, since there was also an exit in the back. But instead of continuing to the exit, according to Nelson's account, Moore parked his car in a dark space between the restaurant and a dumpster.
When Nelson asked him what he was doing, she said, he reached over and began to grope her. "I tried to get out and unlock the door," she said. "I was begging him to stop. I had tears running down my face." According to Nelson, Moore grabbed her neck forcefully and tried to bring it down to his crotch. Eventually, she recounted, he gave up.
"You're just a child," she recalled Moore telling her. "I'm the DA of Etowah County. If you tell anyone about this, no one will believe you." Nelson can't remember if he pushed her out of the car or if she fell to the ground when he finally unlocked the door, but she recalled being on the ground in the cold as she watched Moore drive away. She then stood up and walked back to the front of the restaurant, where her boyfriend eventually picked her up.
"You're just a child. I'm the DA of Etowah County. If you tell anyone about this, no one will believe you."
She said that she never told her boyfriend, attributing her reticence to his "violent temper." The following day, she called the Hickory House and quit her job. She told her sister what happened two years after the incident, she said, and she only told her 77-year-old mother four years ago.
Nelson's allegations come just four days after the Washington Post broke a story about Roy Moore's previous alleged relationships and sexual encounters with girls between the ages of 14 and 18, all of which took place while in he was in his thirties and serving as assistant district attorney for Etowah County in northern Alabama. The age of consent in Alabama is currently 16, the same as it was in 1979, when Moore is accused of touching then 14-year-old Leigh Corfman over her underwear—an act that constitutes second degree sexual abuse under Alabama law.
Roy Moore has consistently denied these allegations, instead accusing the Post of using them as a "desperate political attack" against him. (At the press conference, Nelson said she supported Donald Trump in last year's election.) Moore does acknowledge having known two of the other women interviewed by the Post, who said they had relationships with Moore at age 17 and 18 respectively; he said they were both "good girls" in an interview with Sean Hannity. In the same interview, he did not deny having dated "a lot of young ladies."
Since this story broke on Thursday, the Republican party has been split on whether or not they will continue to support an alleged child molester as a candidate for the US Senate. Some in the party have rescinded their endorsements of Moore; others have encouraged Alabamians to instead write in Luther Strange, who lost to Moore in the Republican primary; and others still have continued to offer their unwavering support for Moore. "I think someone should prosecute and go after [the victims]," Alabama Rep. Ed Henry, a member of the latter group, told the Cullman Times last week. "You can't be a victim 40 years later."
For More Stories Like This, Sign Up for Our Newsletter
These sexual assault accusations follow a long line of controversies with Moore at the center in the past year. Last month, he claimed that kneeling during the national anthem violated federal law. In April, he was suspended (for the second time) from the Alabama Supreme Court for violating federal law himself after asking judges to deny same-sex marriage licenses to couples.
In a statement, Moore's campaign team said that Gloria Allred, the high-powered attorney representing Nelson, is a "sensationalist leading a witch hunt," and insisted that Moore is "a man who has had an impeccable career for over 30 years and has always been known as a man of high character."
Nelson has been adamant that she will no longer be intimidated or shamed into silence. "Mr. Moore attacked me when I was a child," she said in her closing statement at the press conference. "I want Mr. Moore to know he no longer has power over me."