The White House Can't Stop Hiring and Defending People Accused of Assault
White House staff secretary Rob Porter resigned today following accusations that he abused his two ex-wives. He's not the first person with an alleged history of violence against women to be offered a position in the Trump administration.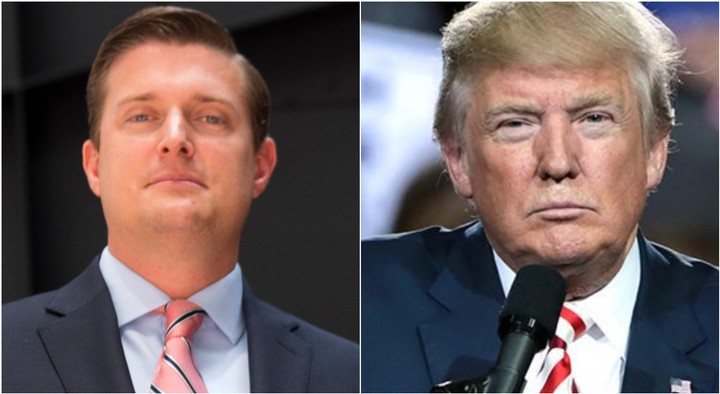 Photos of Rob Porter by Tom Williams via Getty, and Trump via Wikimedia
Today, White House staff secretary Rob Porter resigned after allegations surfaced that he physically and verbally abused his two ex-wives. His resignation reportedly came over the objections of top White House staff, including chief of staff John Kelly. When the accusations first surfaced, top officials were quick to issue public defenses of Porter.
Porter is certainly not the first member of the Trump administration to be accused of domestic violence, nor is he the first alleged abuser to receive vociferous support from the president and those close to him. This seemingly cavalier attitude towards allegations of violence against women is yet another unprecedented and disturbing feature of the Trump presidency, according to presidential historians.
Last night, the Daily Mail published an exclusive interview with Porter's second ex-wife Jennifer Willoughby, who said that Porter abused her after they were married in 2009. The tabloid also obtained a protective order she filed against Porter in June of 2010, in which she wrote that Porter let himself into her home and refused to leave, then punched through a window. Willoughby also says that Porter physically assaulted her, dragging her out of the shower while she was naked, later that year.
Willoughby's accusations were echoed by Porter's first wife, Colbie Holderness, who told the Daily Mail, "He was verbally, emotionally, and physically abusive, and that's why I left." Porter has insistently denied the accusations against him. In his resignation statement, he wrote, "These outrageous allegations are simply false."
As White House staff secretary, Porter wielded great influence: He was tasked with vetting all the information that makes it to President Trump's desk. When Porter first entered the job, a FBI background check revealed to the agency his history of domestic violence, according to The Intercept. John Kelly was also reportedly aware of Willoughby's 2010 protective order against Porter, and Porter was never granted full security clearance in the White House because of it.
"We now have a White House that's filled with people with questionable backgrounds, including and not least the president."
The fact that someone with such an obviously troubling record could get a job in the White House is extremely unusual, according to Peri E. Arnold, a professor emeritus at the University of Notre Dame who focuses on American presidential history. "The presidency must be spotless. That's the iconic standard for the presidency, and presidents have treated the office in that way until today," Arnold told Broadly over the phone. "We now have a White House that's filled with people with questionable backgrounds, including and not least the president."

To date, 19 women have publicly accused President Trump of sexual misconduct and assault. He was also famously caught bragging about grabbing women's genitals in an Access Hollywood video from 2005, which leaked shortly before the election. (In a tweet posted on December 2017, Trump described the multiple accusations against him as "fake news.")
Former White House chief strategist Steve Bannon has also been accused of domestic violence, as has Andy Puzder, Trump's first pick for labor secretary, who withdrew his nomination after the allegations against him resurfaced in 2017. (Last month, however Politico reported that the White House is still "considering finding a role" for Puzder.)
Rather than trying to distance themselves from the most recent member of their administration to be accused of attacking women, Trump insiders have sprung to his defense. "Rob Porter is a man of true integrity and honor, and I can't say enough good things about him. He is a friend, a confidant, and a trusted official. I am proud to serve alongside him," John Kelly said in a statement to the Daily Mail.
Press secretary Sarah Huckabee Sanders also stood by Porter, telling the Daily Mail, "I have worked directly with Rob Porter nearly every day for the past year, and the person I know is someone of the highest integrity and exemplary character."
President Trump has not commented on Porter's resignation, but he's no stranger to defending Republicans who have been accused of violent acts against women—during the 2017 special election in Alabama, he proudly endorsed Republican nominee Roy Moore, who was accused of child molestation.
This, obviously, is extremely unusual. "I don't know of any other presidents who have stood by known sexual abusers," said Stacy A. Cordery, a professor of history at Iowa State University. "Most presidents have waited, or worked behind the scenes, to push miscreants to leave on their own accord."