Activist Munroe Bergdorf Hounded Out of LGBT Advisor Role By Right-Wing Media
The former L'Oreal model was appointed just one week ago by the Labour Party to advise on LGBTQ issues in the UK.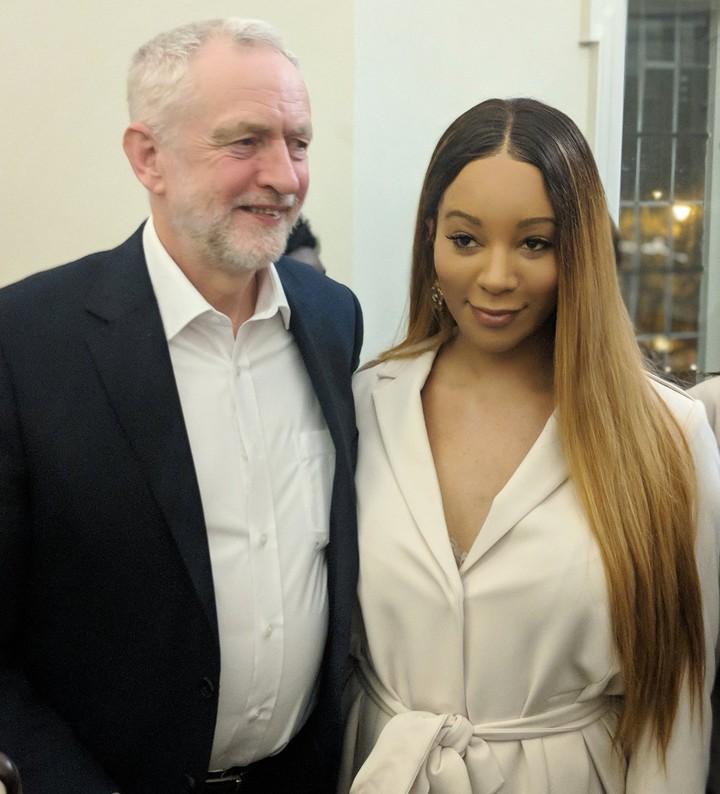 Munroe Bergdorf with Labour leader Jeremy Corbyn. Photo via Twitter
Scarcely a week into her new role as LGBT advisor to Britain's Labour Party, trans rights activist Munroe Bergdorf has been left her position in the face of overwhelming media hostility. In a statement announcing her resignation, the DJ and former L'Oreal model pointed to the media furore around her appointment as her reason for stepping down.

"It is with great sadness that I have decided to step down from the position," Bergdorf said in a statement posted on Twitter. "This is a decision I've made due to endless attacks on my character by the Conservative right-wing press and relentless online abuse. I refuse to be painted as a villain or used as a pawn in the press' efforts, especially those at the Daily Mail, to discredit the Labour Party or discredit their transphobic rightist agendas."
In September of 2017, Bergdorf was fired by L'Oreal after making comments about white supremacy and racial violence in the aftermath of the neo-Nazi rallies in Charlottesville. Labour tapped the outspoken activist to serve on their LGBT advisory board in January alongside other activists and community leaders.
Bergdorf said at the time that she was "thrilled to announce" the appointment and added that the board would "advise Shadow Secretary of State for Women and Equalities, Dawn Butler MP, on issues affecting the LGBT+ community, to help form and push through fairer and more effective policy change."
A right-wing media backlash commenced almost immediately following Bergdorf's appointment. British newspaper The Times dug up social media posts from 2010 in which Bergdorf called a Twitter user a "hairy barren lesbian" and made a joke about gay-bashing an "annoying" character from Glee. Bergdorf subsequently apologized for the posts, explaining that they were in-jokes between friends from when Bergdorf presented as a gay man. "Who I was at 23 years old, is not who I am at 31," she said.
As male Conservative MPs called for Bergdorf to quit, the Mail on Sunday published a Halloween photograph of Bergdorf posing with a rubber unicorn's head by a makeshift altar, and ran it with a headline entitled "Labour leader under pressure from gay MP to sack LGBT adviser who 'practices witchcraft and Voodoo' and was pictured covered in blood in bizarre Halloween snap over 'hairy lesbian' jibe on social media."
Unearthing old social media posts of high-profile figures has become a favored media tactic in recent months, as seen when homophobic tweets from Stormzy were unearthed by Attitude magazine. (The grime artist later apologized for the posts.) But the sheer volume of coverage featuring Bergdorf in the days following her appointment was remarkable—in the space of less than a week, the Daily Mail alone published five pieces about Bergdorf.
Trans rights campaigners say that the negative media attention around Bergdorf's appointment should properly be viewed within a culture of rising transphobia in some aspects of the British press.
"The degree of monstering of trans people, reductive arguments, and downright misinformation in the press over the past few months is something to be condemned," says Helen Belcher of Trans Media Watch, a charity that seeks to improve media coverage of trans and intersex issues. "It's time we stopped treating trans people as freaks for our media entertainment and started treating trans people as equals."