Woman Who Pretended to Be a Man to Have Sex with Friend Convicted of Assault
Gayle Newland told a woman she met online that she was a man named Kye Fortune. To keep up the ruse, Newland purchased a strap-on dildo and required the woman to wear a blindfold when they met in person.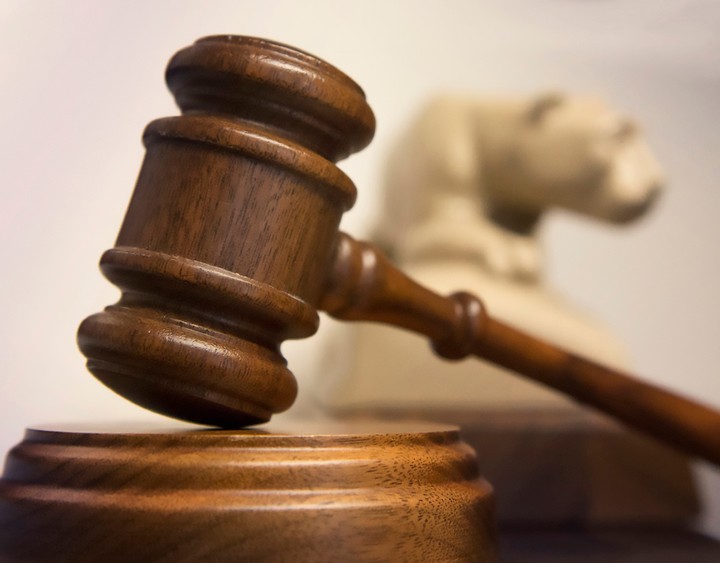 Photo via Flickr
A a 27-year-old woman in the UK was found guilty of sexual assault for the second time, after she pretended to be a man in order to have have sex with her friend.
The woman, Gayle Newland, had been previously convicted on three counts of sexual assault, but her conviction was overturned on appeal. The case stems from a 2015 lawsuit brought forth by an unnamed Jane Doe who alleged Newland tricked her into a two-and-a-half year relationship, in which they had sex 10 times, by fabricating an elaborate online persona to catfish her.
The story is bizarre: According to court documents, Newland first invented a male alter ego named Kye Fortune when she was a teenager. Fortune had a Facebook "which included the most detailed information about this 'man,' his family and friends, together with many dozens of photographs to back up the illusion," a Crown court judge wrote in the initial sentencing remarks.
Read more: Sexual Assault By Police Officers Is Even More Common Than You Think
In 2011, Newland reached out to Doe, using Fortune's profile. At the time, both women attended the same school, University of Chester. After exchanging messages for some time, Fortune suggested to the woman that she should meet up with his friend—Newland.
According to court documents, Newland (as herself) became close friends with Doe, "such that [Doe] confided in [Newland] that she had had a number of failed relationships and an abusive relationship in the past." Meanwhile, Newland was pretending to be Fortune, and Fortune was also developing a relationship with Doe that eventually became romanic.
Little did the complainant know, the judge wrote, "this was the self same person."
This went on for months, with Newland meeting up with Doe as her friend and talking to the woman as Fortune online. Doe eventually wanted to meet up with Fortune in person, and wondered why she couldn't. In character as Fortune, Newland said Fortune had gotten in an accident that left him badly disfigured, which he was embarrassed by, but eventually agreed to meet Doe in person. Newland allegedly wore a disguise to conceal her true identity, and made Doe wear a blindfold when they hung out. When they had sex, Newland wore a strap-on dildo. Newland told Doe that she had to wear medically necessary bandages on her chest and a hat to hide scarring on her head.
According to court documents, Doe still had no idea that Fortune was actually Newland. She told the jury: "I know it sounds pathetic, but I was just so happy at the time because I was in love with this person, and we'd built this beautiful relationship that wasn't on anything like that—it was just based on, you know, our minds and all the other things that we had in common, so I just felt grateful that I'd finally got a proper relationship."
According to The Independent, it was revealed in court that three other women had been similarly tricked by Newland.
I know it sounds pathetic, but I was just so happy at the time because I was in love with this person…
The Guardian reported that Newland described a different version of events at trial. She told the jury that she is a lesbian and has struggled with her sexuality—but her relationship with Doe wasn't a deception. Newland insisted that she was clear about her identity and alleged that Doe was aware she would role-play as Fortune. She claimed that it made Doe more comfortable with their relationship because Doe struggled with being gay. Doe denied this and said she was shocked to find out Fortune was a woman who was one of her closest friends.
The issue up for debate among the jury, The Guardian reported, was one of consent. They ruled that Doe could not consent to sex because she was deceived. In the UK, rape laws cover sex that occurs via deception. (In the US, many states do not consider this to be rape.) The law is controversial; transgender rights advocates have expressed fear that the law could be used against trans people if they do not disclose their gender history to a partner.
Jennifer Long, the CEO of AEquitas, a firm that works with prosecutors on how to handle sexual assault cases, says the law is not typically misused. Most commonly, it's used to prosecute cases involving attackers who pretend to be a victim's intimate partner. For example, the law would apply to a person who pretends to be their twin in order to have sex with their twin's partner.
"I think it's unfortunate that this law is controversial," Long said. "The law has to cover cases where one person has consented to an activity in a manner that turns out to be totally opposite to what they believe is happening, with a perpetrator pretending to be someone else entirely. This law provides just protection for people who are in those circumstances."
Newland will be sentenced on July 20.