Finally, a Lesbian Movie That's Both Super Gay and Universal
Following the success of "Moonlight," indie dramedy "Becks" seeks to bring more LGBT stories to mainstream audiences. The film's creators sat down with Broadly to reveal how they wrote a lesbian film with "broader appeal."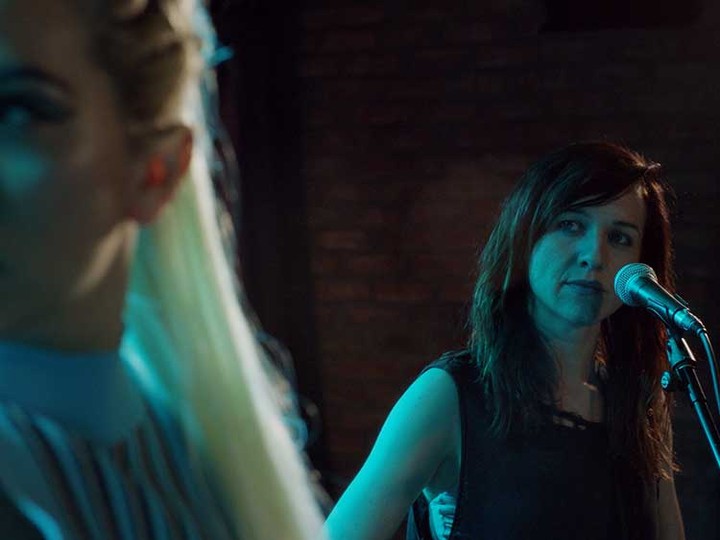 Photos courtesy of Elizabeth Rohrbaugh
When the indie dramedy Becks premiered at the Los Angeles Film Festival this June, it received rave reviews from the likes of Variety and The Hollywood Reporter, the latter stating "the lesbian central character should ensure exposure on the LGBT festival circuit, but the cast and the music are so engaging that the film could resonate beyond that niche market." And so far, that's exactly what's happened. The film won the festival's highest honor—the U.S. Fiction Award—and played to a packed theater as a Centerpiece selection at Outfest in mid-July.

It's still a rare feat for films following LGBT characters and themes to be successful on a mass scale, but with the 2016 Oscar win for Moonlight (Best Picture) coinciding with the uprising of minority communities demanding visibility in all areas (locally, globally, politically and in the media), it seems that America is finally beginning to see that these narratives can (and should be) seen as universal and not part of a genre that only a certain subset of people can enjoy and/or identify with. And in theory, the story of Becks might not sound like it has access points for heterosexuals, nor all too imaginative: A lesbian musician goes through a devastating breakup and moves home with her mom, beginning an affair with a married woman. Similar Sapphic stories have been told, but they haven't been executed and acted like Becks—and not with the music itself that is so central to the film: songs that, even with a woman singing female pronouns, prove that music has the power to unify and tap into emotions for any individual who might allow it.
Lena Hall of Hedwig and the Angry Inch fame is the eponymous star, a talented singer/songwriter whose heartache is only furthered by the fact that she's broken her lease, left her job and her life back in Brooklyn to move to LA with her girlfriend, who incidentally cheats on her with her castmate on a new music competition reality show. Becks begrudgingly retreats to St. Louis where her mom (a former nun!) is happy to have her, but encourages her not to drink so much and to get off the couch after at least a week of wallowing. That leads Becks to her buddy Dan's dive bar, Perfecto's, where she starts playing live for tips. Hall's incredible singing talent slowly draws fans to the stage, and Becks (an out and proud lesbian) has no interest in going back in the closet. She's unaffected by any possible homophobia and speaks (and sings) openly about the woman who stomped on her heart. Among these "groupies" is Elyse (the criminally underrated Mena Suvari), a vintage shop owner who happens to be married to Becks' high school nemesis, Mitch "The Bitch" Cunningham. (Becks reveals he once outed her at prom by taking the DJ mic and announcing her as "valedyketorian.") So, of course, it's sweet vindication (and distraction) when Becks begins giving Elyse guitar lessons, leading to a lustful secret romance.
---
Watch: The Last Lesbian Bars
---
Co-writer/director Elizabeth Rohrbaugh (Seriously TV's Thanksgiving) said she and Daniel Powell (also of Thanksgiving and current Executive Producer for Inside Amy Schumer) said she based the story of Becks on a real-life scenario that she found had a "cinematic" quality. After spending several years living in New York City, Rohrbaugh moved back to St. Louis, saying while she was "not quite old enough for a midlife crisis," she wasn't able to "get her shit together" either. A musician friend, Alyssa Robbins, happened to be going through a similar scenario—she'd just found out her girlfriend was cheating on her, and she, too, had moved back to the Midwest from Brooklyn. When Robbins went on a mini-tour and played in St. Louis, Rohrbaugh found inspiration.

"She played this little 24-hour diner one night and it was just this very bizarre and magical evening with all of these very Missouri type characters," Rohrbaugh told Broadly. "She's singing this breakup music, and I could tell it was a really cathartic experience for her, and then the audience got surprisingly invested in it and so it just had this really cinematic feel to it, the whole evening."
"[Liz] was like, 'Hey, do you mind if I start writing a little bit about you? Not really but kind of?'" Robbins said. "I was kind of like, 'Yeah, sure, whatever.' So a lot of it is Liz's emotion—she was back home. She was dealing with the Midwest—specifically St. Louis—but just kind of based it around a lesbian songwriter that happened to be me."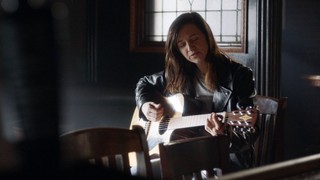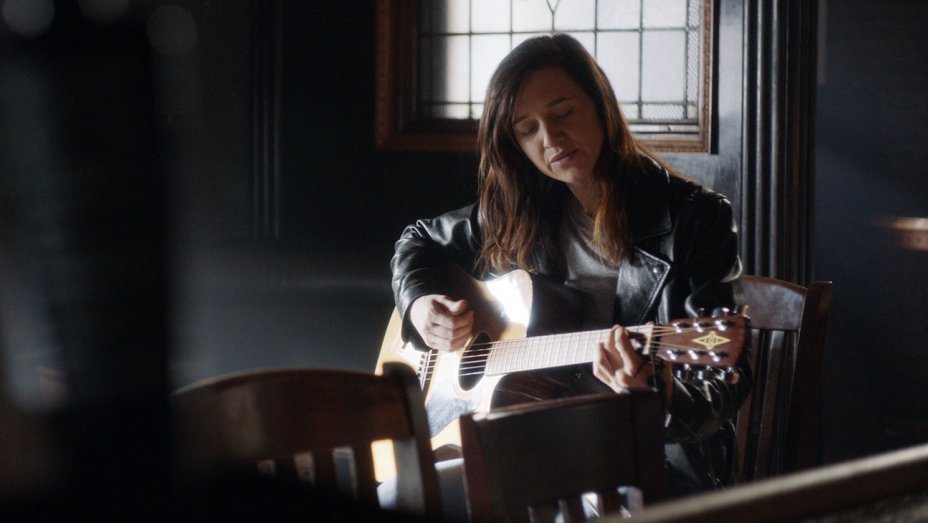 Robbins not only served as the basis of inspiration for Becks, but she lent some of her musical catalog to the film and also co-wrote new tracks with musician/composer Steve Salett. It's largely her words and sentiments expressed through song, and with Hall's delivery, it's a fortuitous combination. And while Becks is loosely inspired by Robbins herself, the musician shares that there are some pretty major differences.
"If you want like percentage, I'd say it's about 40 percent true," she said. "There are definitely aspects of my life. My mom was a nun for 14 years. I did go through a breakup and had to figure things out. I did not move in with her. But Liz got me at a time where I was really trying to figure out what my next step was."
"I did not sleep with a married woman," she added with a laugh.
The "curious straight woman falls for a seasoned lesbian" storyline so often (and so easily) falls into cliched territory, but Becks is able to provide enough nuance and hilariously poignant dialogue that it doesn't get lost in the crowd. Out comic/writer Rebecca Drysdale helped punch up the script, and also makes a cameo as another lesbian, Amy, who the well-meaning straight women of St. Louis try to set up with Becks. Their exchange is a familiar one for most queer women who live in small towns where lesbians are still seen as unicorns.
"Does this happen to you a lot?" Becks asks.
"The super subtle lesbian set up? Yeah," Amy says. "But at least you're cute. It's usually someone who looks like a fat mayor from a comic strip."
Then they debate whether the word "lesbian" is worse than "gay." ("Gay is better," Amy argues, "Lesbian sounds like a mad wizard or like a Hogwarts house that nobody wants to be in.") Then the two leave the boring, straight BBQ and head to the local gay bar, where Becks has a one-night stand with a young woman she never sees again.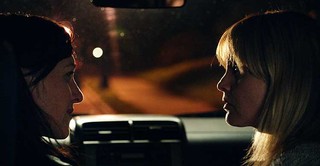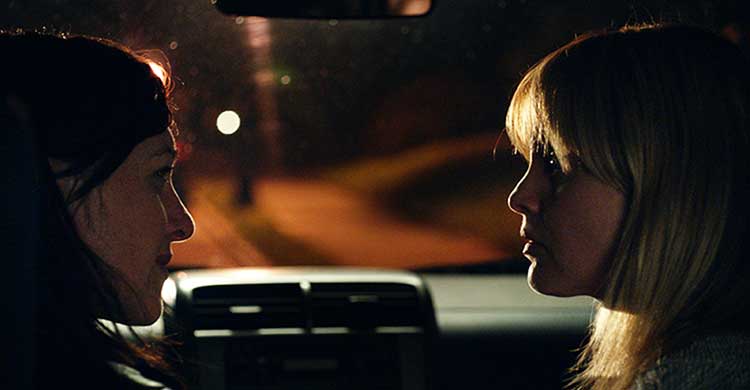 The jokes made in Becks about lesbians and general gayness are either self-referential or comical moments in which the straight people around Becks attempt to relate to her. Her mother tries to share how cool she is with her daughter's lesbianism now by boasting she went to the "gay festival" ("Pride?" Becks offers) and attempts to correctly use the word "pansexual." Becks' first meeting with Elyse's housewife friends has them sharing all of the other lesbians they know (a local golfer, a friend who's either gay or maybe just divorced) with Becks taking it all in stride. She's used to this kind of stuff—she's from here, and this is exactly why she left.
"Whenever I go home, the same people I went to high school with are still there," Robbins said. "Anyone whose left home and come back—things just don't really change. It's a weird time capsule of people."
Robbins herself grew up (and for a time, went home to) Arlington Heights, a Chicago suburb where she says locals "come in [the city] for the Cubs games and then they leave." But Rohrbaugh's St. Louis ties had her hosting the film in a familiar setting that truly proved to be Anytown, America, where lesbians are accepted but still fascinating to the majority of townsfolk who live largely heteronormative lives. And while these people are poked fun at, it's never malicious—Becks herself seems amused by their assumptions and commentary, and it's this kind of acceptance from all characters involved that transmits into the film's audience.
"It is a lesbian film, and we're very proud of that fact," Rohrbaugh said, "but we didn't set out to make it specifically for their audience at all. We do feel like it has a broader appeal, or at least that's our goal. It can be a very enjoyable film to watch and entertaining for a wide audience. So we'd hope that just because it's about lesbians that nobody else can watch it. That was important to us to just put out a really quality film that so happened to star lesbian characters."
Read more: Lesbian Superfans Describe What They Want From 'The L Word' Reboot
"It's a universal theme—love and loss and heartbreak and maturity," said Dan Powell. "And look, 10 years ago it might not have had the opportunity—20 years ago—to have as wide an audience as it might nowadays, but with the way society's been progressing and movies like Moonlight winning Best Picture, it just feels like it has a lot more potential crossover than it might have 20 years ago when it might have been considered more niche."
Combined with the "truthfulness and authenticity" Powell said he and Rohrbaugh wanted the film to have (thus tons of input from Robbins and Drysdale), and the performances from Hall, Suvari and co-stars Christine Lahti, Dan Fogler, Michael Zegen, and Hayley Kiyoko, Becks is a film not "about" a lesbian, but following one in her very relatable journey of figuring out who she is outside of anyone else, and how humbling that experience can be.