Tanzania Plans to Arrest Pregnant Girls and Take Them to Court
The regional commissioner in charge of the plan argued that it would make them less likely to have sex.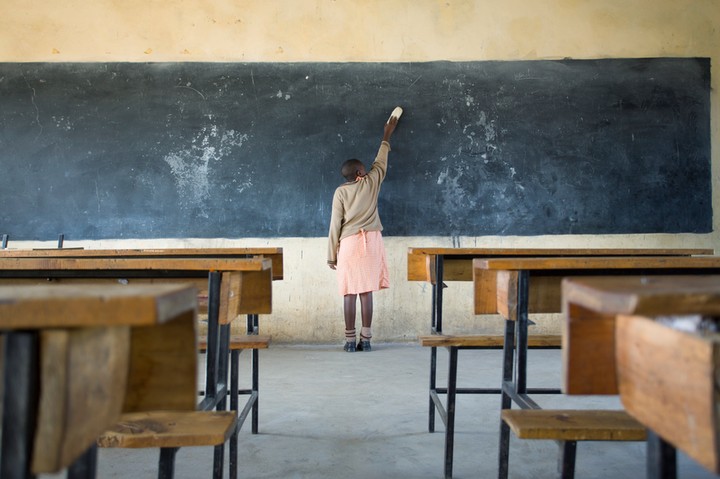 Photo by Hugh Sitton via Stocksy
A leading government official in Tanzania has called for pregnant schoolgirls to be arrested—in order to force them to testify against the men who impregnated them.

Local newspaper the Citizen reports that John Mongella, the regional commissioner for Mwanza, made the comments during a meeting of education officials on December 11. He argued that arresting pregnant teenagers would make them less likely to have sex, and that they could be forced to disclose the identity of their sexual partner if they were arrested and taken to court.
"There has been a tendency of pregnant schoolgirls not to mention the name of a person who impregnated them," Mongella reportedly said. "This is a challenge, when one is required to testify in court."
In June, Tanzanian president John Magufuli told a rally that pregnant girls should be banned from school entirely. "As long as I am president," he said, "no pregnant student will be allowed to return to school… After getting pregnant, you are done."
In Tanzania, around 27 percent of girls aged 15-19 are either pregnant or have already had a child. According to one 2013 report from the Center for Reproductive Rights, more than 55,000 girls were forced to drop out of school in the period between 2003 and 2013 due to pregnancy.
A petition to allow pregnant students to complete their studies has since attracted over 67,000 signatures.
Although Tanzania has signed up to the United Nation's Sustainable Development Goals—including a commitment to provide free primary and secondary education for all girls by 2030—a recent Human Rights Watch report found that school officials routinely conduct pregnancy tests and expel any schoolgirls found pregnant.
For More Stories Like This, Sign Up for Our Newsletter
"Instead of proactively adopting measures to tackle sexual violence against girls and the factors or abuses leading girls to fall pregnant, senior government officials have reinforced punitive measures against teenage girls," says Human Rights Watch spokesperson Elin Martinez.
Ironically, she notes, the Tanzanian authorities have failed to do anything to constructively address teen pregnancy rates: "The government has also failed to provide adequate sexual health and reproductive education in schools, and to increase access to sexual health services to curb teenage pregnancies."
Martinez says that the Tanzanian authorities are complicit in the discrimination faced by these girls, and have even tried to intimidate any organizations trying to offer help."In other countries in the region, the government would be taken to court for discriminating against pregnant girls' right to education," she explains. "However, this year senior government officials have also threatened to deregister NGOs that speak out to defend these girls rights. This leaves teenage girls in a very vulnerable situation."