How Feminist Activists Sisters Uncut Invaded the 2018 BAFTAs Red Carpet
We speak to one of the demonstrators who stormed the awards ceremony to protest UK prime minister Theresa May and her proposed government bill on domestic violence.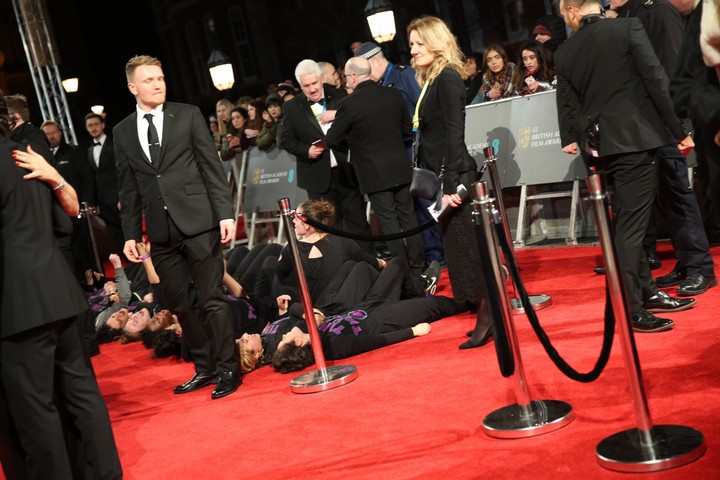 Photo courtesy of Sisters Uncut
On Sunday, direct action feminist activists Sisters Uncut stormed the BAFTAs red carpet to protest the UK government's ongoing cuts to domestic violence services provision. As cameras flashed and celebrities posed meters away, ten or so activists linked arms to chant "Sisters united, will never be defeated," and "Theresa May your time is up, the DV Bill's a cover-up."

Sisters Uncut have form when it comes to storming red carpet events. In 2015, the group catapulted to national consciousness when they stormed the Suffragette premiere at Leicester Square in London. But yesterday's action felt especially urgent, given that the BAFTAs red carpet was dominated by actors wearing black in solidarity with sexual violence survivors as part of the Time's Up and #MeToo movements.
Sisters Uncut member Rosa Carlo was one of the demonstrators involved in yesterday's protest. She told Broadly that she was pleased that the action—which has been weeks in the planning—went off without incident.
"As survivors, we're so often silenced and not paid attention to," Carlo says. "The BAFTAs is a time where the world press is in an area, so we wanted to take that platform and share it in solidarity with the other Time's Up activists. It was strategic. That's what direct action is about. You're not being heard, so you go to any measure necessary to get the information and facts out there about sexual abuse, harassment, and violence."
In particular, Sisters Uncut wanted to highlight the problems they perceive in the government's upcoming domestic violence legislation. Announced as part of the government's legislative agenda in the 2017 Queen's Speech, measures currently being debated would include tougher penalties for abusers and a specialist Domestic Violence and Abuse Commissioner.
"The domestic violence bill is only a distraction and a cover-up," Carlo says. "We're trying to get all the facts out about it now, so the public can oppose it. All it does is increase police powers and toughen sentences. It has nothing to do with supporting refuges, or acknowledge the fact that austerity and government cuts are the reasons that refuges are closing and we're losing our specialist domestic violence services."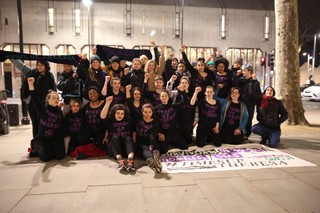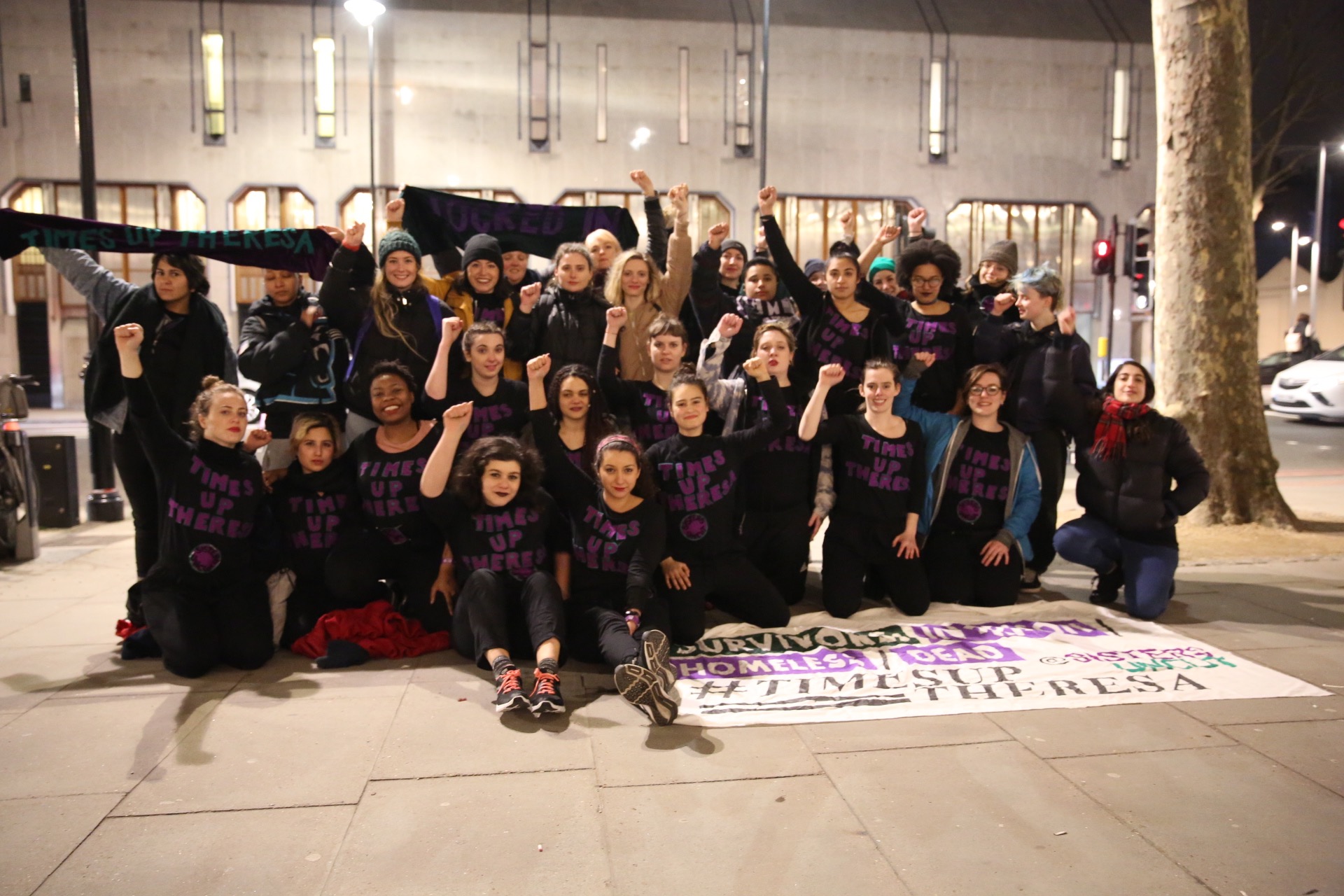 According to Carlo, US survivors have found themselves arrested by the officers they turned to for support when similar legislation has been introduced in their country.
Leading UK women's charity Women's Aid, on the other hand, have cautiously welcomed the proposed measures. "An improved response to domestic violence is not all about the criminal justice system, and all parties need to look beyond this," chief executive Polly Neate said in 2017. "If the Commissioner is truly independent and has the power to hold all agencies at local level to account, however, this could be a very positive way forward."
Carlo says that it is important to keep in mind the wider context in which domestic violence victims struggle to find support. Since 2010, English local authorities have cut their spending on domestic violence refuges by 24 percent, according to the Bureau for Investigative Journalism. Council funding for English refuges fell from £31.2 million in 2010/11 to £23.9 million in 2016/17. Meanwhile, two women in England and Wales die a week at the hands of a current or former ex-partner.
Rather than the criminal justice-led response to domestic violence currently being proposed by the government, the Sisters Uncut activists want a victim-centred approach. "Police and prisons are no solution to domestic violence," Rosa explains. "The only solution is to give power back to survivors, and fund refuges and specialist domestic violence services."
I ask Carlo whether she had any nerves before storming the red carpet in front of the world's assembled press. "We felt very strong and unstoppable," she told me. "We were carrying the two women murdered a week in our hearts and minds. We had a lot of conviction, and we were ready to go."
Carlo says that one moment in particular stood out during their protest. While on the red carpet, IMKAAN executive director Marai Larasi, who attended the Golden Globes with Emma Watson in January, saw the demonstrators and raised her fist in solidarity. "It felt like a triumphant day," Carlo tells me. "The feeling of solidarity was so strong. And that's such a powerful thing. That's what leads to victory—solidarity. We felt victorious."