Anti-Abortion MP Jacob Rees-Mogg Admits to Profiting Off Abortion Drug Sale
The Conservative politician's investment firm owns almost £5 million of shares in a pharma company that produces misoprostol—a drug commonly used to terminate pregnancy.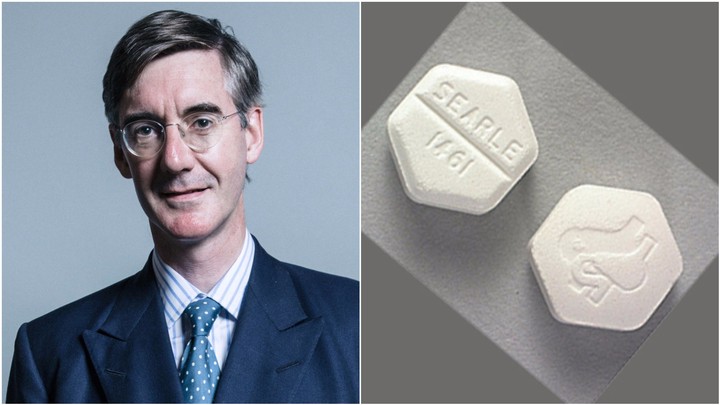 Jacob Rees-Mogg, photo courtesy of UK parliament licensed under CC BY 3.0. Photo of Cytotec, a brand name of Misoprostol, via Wikimedia Commons
British anti-abortion politician Jacob Rees-Mogg has admitted that his investment firm makes money off the sale of abortion pills—even though he previously said that he did not support abortion even in cases of rape.
Somerset Capital Management—co-founded by the Conservative MP in 2007—owns close to £5 million of shares in Kalbe Farma, an Indonesian pharmaceutical company that produces misoprostol, a medication commonly used to terminate pregnancy.
"It would be wrong to pretend that I like it but the world is not always what you want it to be," Rees-Mogg told the Sunday Mirror. "Kalbe Farma obeys Indonesian law so it's a legitimate investment and there's no hypocrisy. The law in ­Indonesia would satisfy the Vatican."
In Indonesia, misoprostol is sold under the brand name Invitec and is marketed as a drug to treat stomach ulcers, though it is also widely used as an abortion drug. Abortions are illegal in the Southeast Asian country unless the pregnancy threatens the life of the mother, forcing many to resort to underground means to procure a termination. Researchers estimate that up to two million illegal abortions occur in Indonesia every year.
Read more: It's 2016 and a Woman in the UK Was Just Convicted for Self-Inducing an Abortion
Rees-Mogg also claimed to be unaware that Kalbe Farma manufactured misoprostol, adding, "I don't manage the funds and haven't done so since I became an MP. But the funds have to be run in accordance with the requirements of the investors and not according to my religious beliefs.
"This is not something I would wish to invest in personally but you have a duty as an investment manager not to impose constraints on investors."
The Catholic politician is widely tipped to succeed Theresa May as the next leader of the Conservative party. He said that he profited off the Kalbe Farma investment "in a very roundabout way," but maintained that his own money was not directly invested in the pharma company.
"This company does not procure the abortion of babies," he continued. "It's not my money in these investments and I profit from the total amount of client money we hold, not the investments we make."
Rees-Mogg is listed as a partner of Somerset Capital Management, which specializes in investing in emerging markets. According to the Spectator, it currently has $7.6 billion under management and has offices in London and Singapore.
The Mirror reports that Rees-Mogg makes £14,500 every week off his work for the company. In 2016, the Spectator estimated that his annual combined income as an MP and investment firm partner was worth at least £216,000.
In September, Rees-Mogg told provoked alarm from pro-choice campaigners when he told Good Morning Britain that he "completely opposed to abortion" in every circumstance, though he maintained that there was "no question of any of these laws being changed" in the UK.
"Life is sacrosanct," he told hosts on the breakfast TV show. "It begins at the point of conception, and I think [abortion] is wrong."
For More Stories Like This, Sign Up for Our Newsletter
Mara Clarke of Abortion Support Network, which provides assistance for women traveling abroad for terminations, said of Rees-Mogg and the recent revelations about Somerset Capital Management: "I am saddened but not surprised that someone who seeks to judge people for making their own decisions about what is right for them, about when is the right time to have a child, or to have another child, is a hypocrite.
"I hope, but do not expect, that the outrage over this hypocrisy is the catalyst for Mr. Rees-Mogg to take a good hard look at his own conduct before he seeks to control others."
When Broadly reached out to Jacob Rees-Mogg for comment, he declined to comment further.