After Charlottesville, Schools Named After Confederates Consider Changes
There are over 100 schools in America named after Confederate leaders. After last weekend's white supremacist rally in Charlottesville, students and administrators are calling for that to change.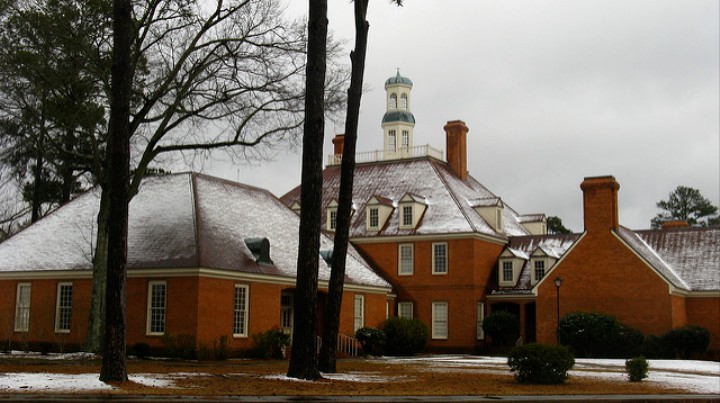 Photo courtesy of Grauke/O via Flickr
On Saturday, America witnessed white supremacists descend on Charlottesville, Virginia to protest the scheduled removal of a statue of Confederate general Robert E. Lee.
In the days following the violence that erupted at Charlottesville—which the House Homeland Security Committee is set to discuss at an upcoming hearing as domestic terrorism— the movement to pull down Confederate statues and replace the Confederate names of schools has gained new momentum. Calls to rename schools and remove statues began increasing in 2015, following the murder of nine black people in Charleston, South Carolina at the hands of white supremacist shooter Dylann Roof.
Read More: Doxxing White Supremacists Is Making Them Terrified
On Tuesday—following President Trump's conference in which he said that there were "very fine people" among the white supremacists at Charlottesville—CNN anchor Don Lemon discussed the implications of attending a school named after Confederate leaders. "Can you imagine having to go to a school that has the name of your oppressor on it?" he said. "Imagine if you were a Jewish person in Germany and you had to go to Hitler High School."
On Wednesday, Oklahoma City Public Schools superintendent Aurora Lora held a press conference to discuss changing the names of four schools in her district named after Confederate army generals: Stand Watie, Lee, Jackson, and Wheeler Elementary.
"The actions going on in our nation are what have stirred conversations here, that's why we want to take this opportunity to consider possible changes," she said.
Lora also announced that she will be reaching out to communities in her district, as well as local historians, to see if there is interest in going forward with the name changes. "I'm not interested in forcing a name change on any community that does not feel it's necessary."
"The name was always looked down on and belittled as symbol for slavery or racism."
Other school leaders have spoken out about this issue including Miguel Solis, a member on the Board of Trustees of Dallas Independent School District—one of the largest school districts in the country. On Sunday he tweeted, "It's past time to change the name of all confederate schools in @dallasschools. Looking for leaders to join me in making the change."
Camilla Virola is a recent graduate of Lee High School (LHS) in Huntsville, Alabama and a young woman of color. On its website, LHS says it was named after Lee Highway, which used to run in front of the school's former location. The highway was, of course, named after Robert E. Lee, but the "School History" section of LHS's site does not mention the Confederate general. Virola says that she and her classmates were told in school that Robert E. Lee considered his position as a general in the Confederacy "more so of a job than him actually supporting what he was fighting for."
"At first I was very upset when I learned who exactly Robert E. Lee was," Virola says. "The majority of kids who attend my school are black so of course all of us were bothered and we had many class discussions about having the school name changed.
"But after a while it was just seen as a normal thing from living in the South and we left it alone."
Virola, who is preparing to start college at Alabama A&M University in the next few weeks, says she's no longer insulted by the school's name. "Maybe if it was a majority white school and the name was flaunted as something 'good' or something to be proud of then I would feel differently, but it wasn't," she says. "The name was always looked down on and belittled as symbol for slavery or racism."
For More Stories Like This, Sign Up For Our Newsletter
Today, there are over 100 schools in America named after prominent figures in the Confederacy—many of which have a predominantly black student population. Depending on whether or not efforts to change these school names are successful, many of them will continue to receive their education at institutions named after figures like Robert E. Lee—a man who once said that "the blacks are immeasurably better off here than in Africa, morally, socially and physically," and that slavery is "a greater evil to the white man than to the black race."